Big Boris III (Resin version)
£13.00
Sale: £10.40

Save: 20% off
LATEST NEWS - SKELLINGTONS!

OCTOBER DISCOUNTS!
See Discount Codes page for details!

Gotta catch em all, etc
The second skeleton in the series of collectable 3-Up model kits, Bonana the Skeleton Barbarian, has now officially Sold Out. Thank you to all those who have bought one. Don't miss out on the others in the series! They can be found in the Limited Edition section.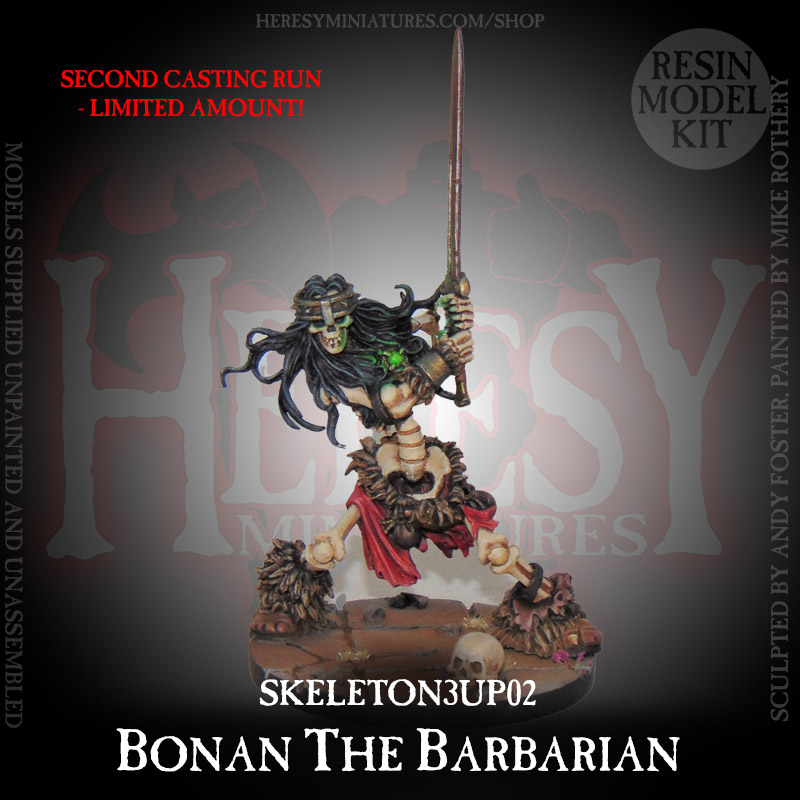 AUGUST 2021 WARNING: Metal prices have gone up by 40% this year, and I now have no choice but to put the prices of the metal figures up accordingly, effective immediately. i haven't done this for years, absorbing recent price increases, but this one is HUGE. It will take me some time to individually increase each figure, so if you order quickly enough you can save some money! The 20% off offer will end this Sunday, 1st of August, and prices will start to increase according to the weight of each figure, from Saturday afternoon.

Important: BREXIT vs EU customers - VAT, Import Duties
The UK has now left the EU and is treated as a 3rd country (ie Non-EU) and parcels coming from the UK to the EU must now follow normal EU import rules. All Heresy Miniatures are sent as 0% VAT rated goods, as my turnover is nowhere near teh VAT threshold in the UK, so i am not VAT registered. This means that for th emoment, until Royal Mail come up with a solution where I can pay the VAT etc in advance, any VAT owed must unfortunately be paid by you, at your end of things, when the parcel arrives in Customs. This will incur a customs handling fee, please check with your local authorities what this means to you.
Ultimately, you will pay VAT at one end or another eventually! But you should expect a delay whilst your order clears Customs, allow time for them to process it and send you notification of any duties due. Complain to your MEP to change this, they're the only ones with the power!

EU Customers - UK is now a non-EU country and your UK orders count as imports!
Orders of any value UP TO 150€ including shipping (approx £130.00 in GBP) value will need VAT paid to clear customs at your end*. It seems most EU coutrneis also charge a Service Fee, please check your local Customs department for information on how much it is as it varies from 7,50€ to 27,00€ for each country!
Orders over 150€ including shipping will need VAT and a Customs handling fee paid in order to clear Customs. No avoiding this unless you split the order into multiple boxes and ship separately.
If you don't want to pay the service and handling fees due to customs, you can order your Heresy figures from Battlefield Berlin in Germany (see banner below) - or get together with one or two trusted friends or a gaming club, make a combined order, and split the fees between you to share costs!

To change currency from GBP to Euros, use the desktop version of this site, and then the Currencies option is available in the side menu
As a tiny one-man business nowhere near the UK VAT threshold, I am not VAT registered, and don't have the time and Games-Workshop-sized accountancy department to navigate the EU's inter-country VAT networks as well as try to make models. So I am afraid the only plausible option for the moment is to ask you guys to pay the VAT at your end. There is no legal way around this, sorry. From July 2021 there should be some sort of One Stop VAT Shop for non-EU businesses to register with that will change how this works. I can register for all EU countries then, to pay this VAT in advance which will save hassle for you, but until then, this is what will be happening. Orders under 22.00€ will not have VAT or customs duties applied as I understand it, so 'single figure' shoppers should be fine. This is all part of the attempt to stop China dominating the markets with cheap goods shipped as 'gifts', as I understand it, but it's you guys that are paying the price.

CORONAVIRUS UPDATES
I have reduced my time in the Post Office to once a week (Fridays) to try to limit my exposure to the virus, as I am at high risk of death. I only really need to use the post office for tracked items, so if your order uses standard delivery and I have packed it earlier in the week, I can drop it off in the parcel box near my unit instead of waiting until Friday.
Please keep ordering! I am totally reliant on new orders to pay the bills, now more than ever. Why not buy a Gift Voucher to help me out and spend the funds later? That would be brilliant.
Please note that as this global pandemic continues to interfere with the entire world's day to day systems, parcels may get delayed. Don't panic! They will turn up eventually, but you should expect everything around you to be affected somehow as workforces are told not to go to work.
Also, if you buy from my eBay store you should be able to pay the VAT in advance through eBay when purchasing, I will be building this store up, over the next few weeks with the most popular items once I find out exactly how this process will work and what I need to do to comply with the VAT laws and Customs requirements through eBay. Link to follow!
(A similar scheme now applies to the UK and requires all non-UK companies to register int eh UK for VAT if I were to try to import anything over £135.00 in value such as a 3d printer from China or a sack of plastic bases from Spain. Nightmare!)
You will be charged VAT and may also be charged import duties by customs in order to clear your parcel. All items sent at 0% VAT rate (Duty To Be Paid)

NEW SHIPPING OPTIONS - July 2020
Because the USA recently renegotiated their deal with the Universal Postal Union (Google it) and are now charging the rest of the world huge amounts for what is known as Last Mile Delivery, Royal Mail massively increased it's charges for Small Parcel boxes accordingly. Hugely so, with a 50% increase! There's nothing I can do about it, but I have figured a way to get the smaller orders out via Large Letter which will save not only the USA customers a fortune but also means everyone else can now use the smaller Large Letter rates if placing an order that qualifies - it's all about the size of the figures ordered, and the amount of figures ordered. Thre's only so much I can fit into a Large Letter sized box, so if you only order figures that fit into one, and your order comes to less than £60.00 GBP, you will see the option for Large Letter rate delivery when you checkout. If a figure is too big to fit into a Large Letter box, you will see a warning on the information page for it declaring it to be "Minimum Delivery Method Small Parcel". JUst one of these in your order means a bigger box is definitely needed and the Small Parcel rates will apply regardless of order size. The current £60 limit is entirely theoretical and may have to be lowered if it turns out to be too many little figures on average! But so far it is working out well for the customers - if you choose the higher value Small Parcel option and it turns out I can fit it into a Large Letter box when it comes to packing, i will add some appropriate extra figures of some sort into your order to offset the difference if I can.
PLASTIC BASES
Unfortunately the UK supplier of the plastic bases that Heresy and all other indie miniatures makers over here use, is going through some Interesting Times. They've gone nto liquidationi and relaunched under slightly different names once or twice recently, and now they've been hiot by tht double whammy of Coroinavirus lockdown and moving production into Europe somewhere (reports vary as to where). What this means in real terms is none of use can get hold of any plastic bases for the next couple of months until the company has sorted itself out and is shipping again. I have made a note on the dropdown options of which bases are unavailable. (Also it means prices will likely rise on them again, what with Brexit and all the rates and tariffs and lorry drivers not being able to use their EU driving licenses/UK driving licences etc. Unless some currently unforeseen trade deal miraculously transpires to solve those problems hahahahahaha incompetent arrogant buffoons.)
CORONAVIRUS - I am now shipping all orders on Fridays each week only, in order to minimise my and others exposure, etc. Please keep ordering! I am totally reliant on new orders to pay the bills. Like most tiny one-man miniatures businesses I have no funds to live off unless people keep ordering. Why not buy a Gift Voucher to help me out and you can spend the funds later? That would be a brilliant help and saves any confusion.
The entire United Kingdom is now in lockdown, and leaving the house has been banned for all but essential stuff like groceries. This means that I may not be able to post your order until the end of April as I am not supposed to travel to work, but we await further clarification. The situation is unprecedented - its a global pandemic! We are all going to be affected. Please be patient whilst the apocalypse settles into a familiar rhythm. REMAIN INDOORS. Your parcel will arrive as soon as possible!
I will try to get it out to you as soon as I can but for safety assume that it may not ship until the end of April, depending on how strict this lockdown gets and how long it lasts. This Pandemic is UNPRECEDENTED. We all have to do our bit to save lives. Please be patient!
I will be restricting the amount of days that I leave the house to go to the workshop, at the moment this will be one or two days a week. You will get a shipping notification when your order ships, check your junk folder. Please note that as this global pandemic continues to interfere with the entire world's day to day systems, parcels may get delayed. Don't panic! They will turn up eventually, but you should expect everything around you to be affected somehow as workforces are told not to go to work.
Please also note that I am at higher risk of DEATH if I catch the coronavirus. I have no desire to drown in my own lungs, like any sane person. I will try my best to get your orders out but please do bear with me whilst I strenuously avoid dying in order to do so. However, I will try to post orders at least once a week until a total ban takes effect, to avoid too much backlog building up as that is also problematic for me - it takes me ages to catch up with a big queue!
APRIL 27th UPDATE ON DELIVERY DELAYS AROUND THE WORLD, PLEASE READ:
Getting quite a few enquiries from customers asking me to find their parcel, which is lost somewhere in the international mail or even in the UK mail. Varying degrees of anger and frustration. I sympathise entirely, but please understand that once I post your parcel I can't do anything more about it - from reports there seems to be an extra two weeks delay on most parcel deliveries, even tracked ones.
These big delays in the postal systems around the world are caused by the global pandemic, the need for distancing in warehouses, and staffing levels, so your order may take an unusually long time to arrive – even in the UK some areas are reporting a two week delay in first class mail, and I have had several enquiries on Tracked overseas items that are being held up in customs sorting offices etc.
If you have a tracking number from me, please keep checking it on your local postal service website (as well as UK one linked to in your email receipt) – if your item mysteriously disappears from your local country's post office website system, it means it is likely on a shelf in a warehouse waiting to be sorted, be patient, it will turn up eventually! This has happened just this morning, with a tracked French parcel that was listed on the Royal Mail UK website as being in the local French Delivery Office on the 16th of April, but which had vanished off the French system! The customer contacted his local post office yesterday and was told there was no trace of it, only for it to turn up this morning, the 27th.
If you did not pay for tracking, all you can do is wait, it will turn up, but there's nothing we can do to make it happen faster, sorry. Your local post office service will deliver it whenever they deliver it. Global Pandemic! Unprecedented chaos! Worse-than-Christmas levels of parcels in the sorting offices! It's something of a nightmare just now.
So: Keep ordering but be patient, and most importantly, stay indoors, stay safe and paint some of those miniatures you've already got while you're waiting!
:)
Thanks again to all of you for your orders this month - it means a lot to me, it really does!
All the best,
Andy Foster,
Heresy Miniatures Ltd
Follow me on Kickstarter for the Skeleton Plastics project coming soon!
www.kickstarter.com/profile/heresyminiatures

Follow me on Instagram to see the pictures as they are completed.
---
---
BREXIT KLAXON!
The UK will, sadly, be leaving the EU at the end of January, and we don't yet know what this will mean for our EU customers - hopefully something will be agreed that keeps the import value limits at a very reasonable level (USA for instance, has a £500 limit before duties are applied) To be certain of avoiding any duties and fees at all, you need to order NOW and be sure to use the discount codes for December to save further money! You can get Free Shipping or up to 20% EXTRA off your order! See DISCOUNT CODES section for more info!
---
SALUTE 2020 - I Won't See You There.
Sadly for the first time since 2004 or something, Heresy will not be attending Salute in London next April as a Trader, as there simply weren't spare funds to pay the huge stand cost at the start of December this year. I am absolutely gutted not to be there as I love the show, but on the other hand I won't miss the 3 months of 12 hour days casting and packing to try and get ready for the show - every year it just about kills me, I even gave myself Type 2 Diabetes in 2018! (I have got that in remission now with some serious lifestyle/diet changes, feel free to ask me for more info if you are similarly afflicted! Or visit Diabetes.co.uk, and google Low Carb High Fat Diet). Also the show has become less and less profitable for me in recent years and I even made a loss last year attending because of all the metal, silicone and resin needed to get ready, plus th ehotels, van hire, fuel and food costs for the weekend. So i'ts mixed feelings, but hopefully I can return triumphantly in 2021 waving plastic skeletons about the place! News on those very soon!
---
---
November Newsletter Subscriber Offers
https://mailchi.mp/7f146d4b9edc/novembrrrr-offers
Will Andy find the huge amount of money to pay for the Salute stand next year, by the end of this month? Only you can decide - buy something! UPDATE: He did not. Heresy will not be attending Salute as a Trader for the first time since 2004 or something...
---
---
Undeath and Taxes
Check out the news and Special Discount Codes for subscribers in the latest Heresy Newsletter!