How To Buy & Use Gift Vouchers
How To Buy And Use Gift Vouchers
IMPORTANT: Make sure your email address when ordering is correct as that is where the email/funds will be sent. Check junk folders etc. If your email bounces the @heresyminiatures.com email addresses, I can sort it out using a back up gmail address. Contact me via shop@
Buying Gift Vouchers (a.k.a. Gift Certificates):
You can easily buy gift vouchers to use later, or to give to a friend or family member to use on the Heresy store within one year of purchase. Simply log in or register for a Customer Account, go to the special Gift Vouchers category and select which voucher amount you wish to pay for, add it to the cart, and checkout as normal.
You will receive an email once your Gift Certificate is cleared from the admin side of things, with a special code and link in it.
You only have to use one of these methods of redeeming the code, if you have already made a Customer Account! It is best to log into your Customer Account before you try to redeem the code using one of the folowing methods.
To use The Code supplied in the email:
Copy and paste the code in the email, into the Gift Certificates Redemption Code box on the payments page, but you can only do this if you DON'T also click the link in the email! Clicking the link automatically invalidates the code - because it also adds the credit to your Customer Account, see image below:
Click The Link
If you click the link, the amount of Gift Certificate credit will be added to your Customer Account and should be visible once you log in next time (if you log in before you click the link, it makes it easier). You will find instructions on how to use your Gift Voucher credit on the front page of your Customer Account. If you wish you can add all or some of your GV total during the Payment Options phase of your next checkout.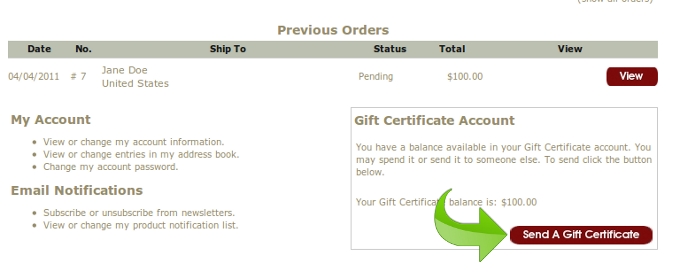 You can also send credit to friends and family by email! Simply click "Send A gift Certificate' and use their email address to send some or all of the credit you have bought. They will need to set up or log into a Customer Account of their own to use the credit.
ERROR MESSAGE?
Please note: when sending credit to friends and family via email, you are asked how much to send - do not enter a currency symbol (£, $, €, etc) in that box or you will get an error message saying the amount is wrong - just use numbers! (So write 10.00 instead of £10.00)
During Checkout, on the payment options page, you will see a box titled Gift Certificate Balance as per below image, asking you if you wish to use some or all of it. Enter the amount you wish to use into that box and it will deduct it from the total when you click 'Continue'.
It's all very easy! To buy a gift voucher, click here or click the link in the header menu above