LATEST NEWS

January 20th - All Caught Up!
All orders from 22nd of December 2019 to the 20th of January 2020 have now been sent out and the queue is clear, so no more delays! Hurray! I need more orders, stat! Got a whopping workshop insurance bill due this month from my landlord...
January 13th - Back at work!
I am back in the workshop and trying to get through all the complicated orders you lot have put in over Christmas/New Year - bear with me while I catch up! All your orders will be sent out as soon as possible, the only things delaying them is that I have to cast it all myself, which often leaves little itme in the day to pack the actual orders! Getting there, though, most of the diffcult ones have been done now, only 20 or so orders behind.
feel free to order now! I need more orders to keep going, January is a terrible month for money, make sure to use the Discount Codes to save £££s on your order!
---
Christmas Closing Dates
Many people don't realise that Heresy is a one man miniatures business - I work extremely hard, every day of the year, for little or no reward, and the only time off I can take is at Christmas! Those blessed two weeks are the one thing that keeps me going, so I'm sorry for the inconveience of a delay in your orders, but nothing will ship from 12pm Friday 20th of December 2019 until my return on January the 7th 2020 - I will be sculpting Skeletons for my plastic skeleton warriors project over the holidays (and also i have to paint my rented kitchen, blergh). Follow me on Instagram to see the pictures as they are completed.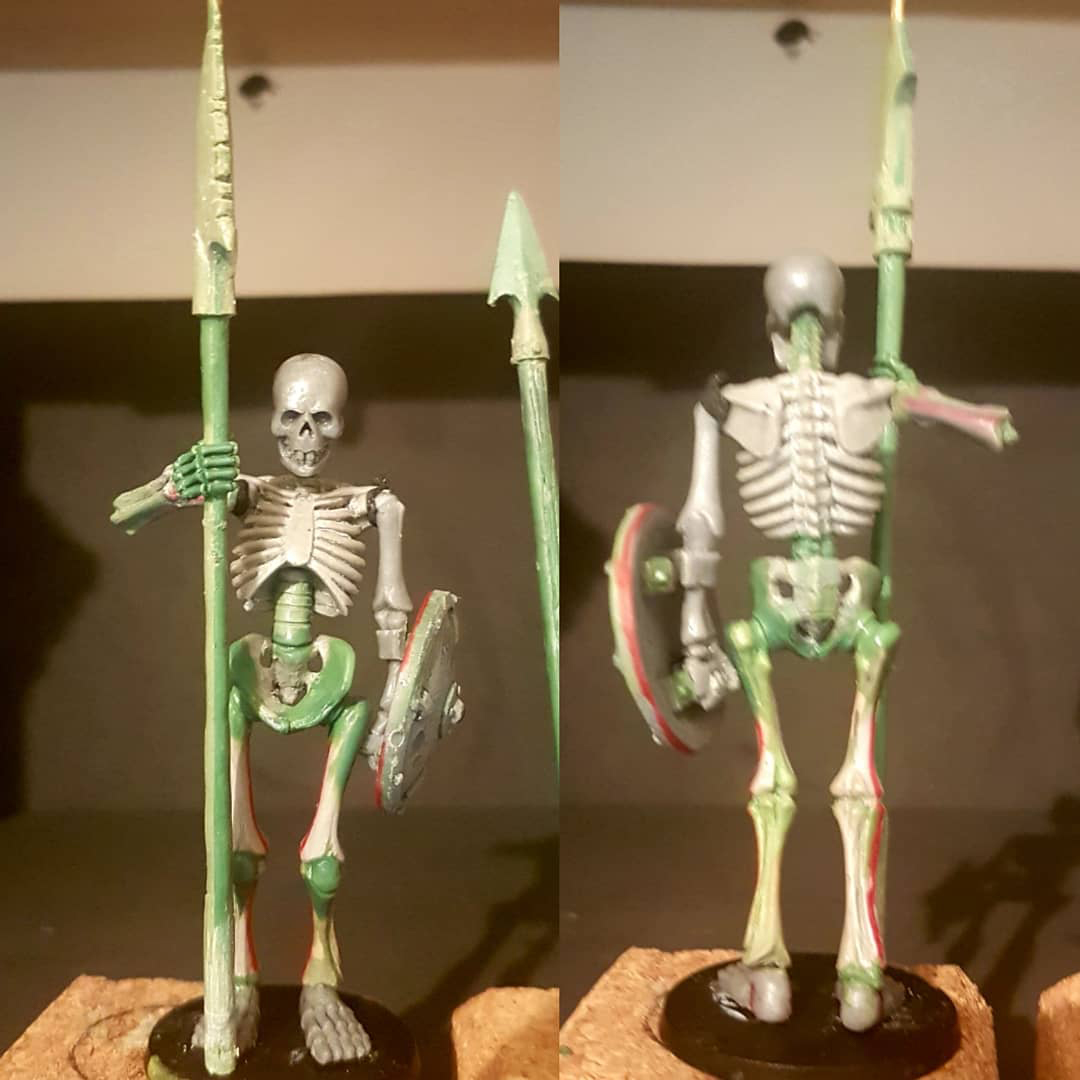 ---
---
BREXIT KLAXON!
The UK will, sadly, be leaving the EU at the end of January, and we don't yet know what this will mean for our EU customers - hopefully something will be agreed that keeps the import value limits at a very reasonable level (USA for instance, has a £500 limit before duties are applied) To be certain of avoiding any duties and fees at all, you need to order NOW and be sure to use the discount codes for December to save further money! You can get Free Shipping or up to 20% EXTRA off your order! See DISCOUNT CODES section for more info!
---
SALUTE 2020 - I Won't See You There.
Sadly for the first time since 2004 or something, Heresy will not be attending Salute in London next April as a Trader, as there simply weren't spare funds to pay the huge stand cost at the start of December this year. I am absolutely gutted not to be there as I love the show, but on the other hand I won't miss the 3 months of 12 hour days casting and packing to try and get ready for the show - every year it just about kills me, I even gave myself Type 2 Diabetes in 2018! (I have got that in remission now with some serious lifestyle/diet changes, feel free to ask me for more info if you are similarly afflicted! Or visit Diabetes.co.uk, and google Low Carb High Fat Diet). Also the show has become less and less profitable for me in recent years and I even made a loss last year attending because of all the metal, silicone and resin needed to get ready, plus th ehotels, van hire, fuel and food costs for the weekend. So i'ts mixed feelings, but hopefully I can return triumphantly in 2021 waving plastic skeletons about the place! News on those very soon!
---
---
November Newsletter Subscriber Offers
https://mailchi.mp/7f146d4b9edc/novembrrrr-offers
Will Andy find the huge amount of money to pay for the Salute stand next year, by the end of this month? Only you can decide - buy something! UPDATE: He did not. Heresy will not be attending Salute as a Trader for the first time since 2004 or something...
---
---
Undeath and Taxes
Check out the news and Special Discount Codes for subscribers in the latest Heresy Newsletter!