LATEST NEWS (XMAS SHIPPING)

Last Shipping Dates For Christmas 2018
Official Royal Mail UK Last Post Dates For Christmas 2018: Be CERTAIN that you pay for Tracked, Signed or preferably Tracked & Signed if it is available for your country (or Special Delivery for the UK) or you will realistically have little to no chance of your parcel turning up in time for Christmas. Get your orders in at least 3 working days before these dates for safety! Heresy has no control over your parcels once they are posted and you will be at the mercy of the postal service in both the UK and in your country!
CANADA: Sorry, Canucks, but Canada Post is broken. Your best chance of delivery is to pay for Tracked & Signed shipping, which is both an express service and trackable, and hope that this gets through your backlog, caused by strike action, new computer systems and all th eother problems it's had this year. Alternatively, you will need to use a courier service to bypass it. I normally use UPS at my end, and it will cost between £13 and £22 per parcel, unless you live in what they term a 'remote area' and which they charge me an extra £15 surcharge to deliver to, which i will have to pass on to you. Also you will likely have to pay a small customs clearance fee of around $6 to $10 per parcel. But it should arrive within a week or so!
NON-UK SHIPPING DATES:
UK SHIPPING DATES:
UK orders: the last day that we will be shipping ANY orders is the 21st of December, at 9am. GET YOUR ORDER IN WELL BEFORE THEN. I'l be trying to take some proper time off over Christmas as I've only had around 9 days off this last year and am determined to see my wife for once!
LET ME REPEAT IN CASE YOU DIDN"T READ THE FIRST BIT: These are the official dates that Royal Mail have given for posting parcels overseas, etc, for expected delivery in time for the 25th of December 2015. However, and as every year, I would suggest that you knock a week off those dates and make sure you get your orders in long beforehand so as to avoid disappointment - international orders are especially prone to delays and things around that time of year and we at Heresy have no control over the parcels once they are posted! Also, be sure to pay for express, insured shipping to maximise your chance of the parcel arriving on time!
Heresy Miniatures is currently planning to close on the 21st of December, returning January the 9th. No orders will be shipped from the end of day on the 21st until my return in January. Please bear this in mind when you email angrily asking where your order is. There's only me (Andy) I need a break just as much as normal human beings do.
Never Say Never Again (About Dragons)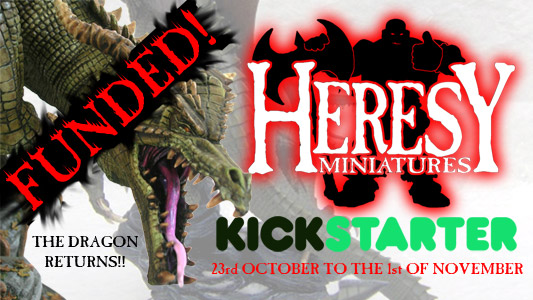 Yes, if you missed out on the Dragon the first time around, Andy has decided to finally relent and run a Kickstarter to raise the funds to buy enough silicon and resin to do another production run of Heresy's infamous and most splendidly impressive beast, the Dragon! The Kickstarter campaign ends November 1st, so hurry!!!
Click the pic or copy and paste this link:
https://www.kickstarter.com/projects/heresyminiatures/the-heresy-miniatures-dragon-production-wave-ii
Coming Soon...
I've been very quiet for th elast two months as I try to finish off two crucial models from th eKickstarter that will let me get most fo the remining pledges out - the Netherlord II and B'Hakoth the Destroyer. The NL2 has been up for pre-order for a couple of months now, but proved very very hard tophotograph in the original metal and green stuff master model, so beter pictures of this brute of a demon lord model will be forthcoming in th enext week or so. I have now only got the wings to master for the Winged NL2 version, and production moulding can begin in earnest.
If you have been waiting for your Kickstarter models to be finished and your pledge to be sent and have moved house in the last 4 years since you put your pledge through on the pledge manager shop, please check that I have your new address!!
24 Hour Flash Sale! Ends 25th June at Midnight
Until 1 MINUTE PAST 12AM ON 26th June, you can save extra money on your order! Discounts are applied automatically when you checkout! Hurry, these offers automatically expire at Midnight, UK time, 25th June! AND THAT'S BASED ON THE SERVER TIME, SO IT MIGHT BE TEN MINUTES EARLIER.
Spend £25.00 or more, get 10% extra off your order total
Spend £50.00 or more, get 20% extra off your order total
Spend £200 or more, get a whopping 25% off your order total!!
All these discounts are on top of any existing discounts listed on the catalog prices!
MAXIMUM BRUTALITY!
The Deathball Ogres have returned at last! Now in resin for easier assembly, quality casting, and lighter transporting! I have sculpted all new arms, hands and heads for these big bad brutes and made sure that all the parts are interchangable, giving you hundreds of possible combinations!
LOOK INTO MY EYE
The original Occulaks ar eback, but now with disgusting tendril flavouring! These lecherous, floating, demonic horrors make great end of level bosses for your dungeon or just cool display pieces! You can even buy extra tendrils to upgrade it to your desired ultimate form!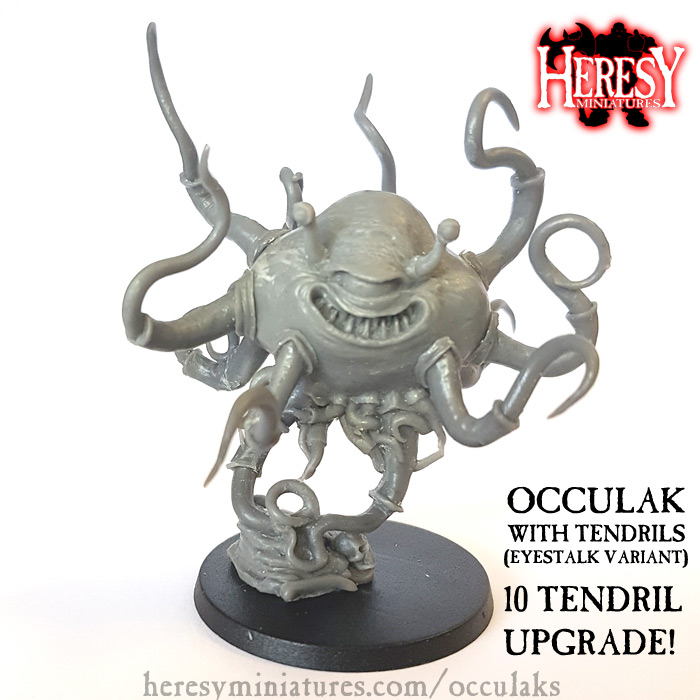 MEANWHILE
Check out the pre-orders - The Netherlord II has returned and will be winging it's way out later in the year (on or before September) and the Occulak has a new shape to disgust you with!
19th February UPDATE
I still need orders to pay the massive bills due next week! Not only can you get the stupidly good sale offers on all the various models, but for the rest of this week, you can get the otherwise unavailable Job's A Good 'Un Boris that features on the thank you slips I send in the orders!
There is no other way to complete your big Boris collection without him!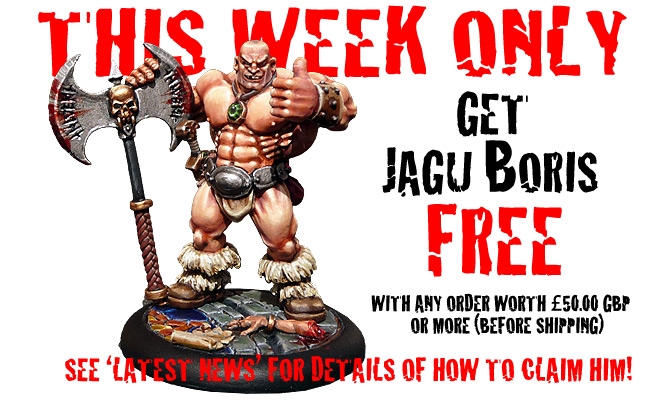 To claim your free JAGU Boris, you must do the following:
Place an order on the shop before Monday February the 26th. The order must be for at least £50.00 GBP of goods before shipping and after any discounts or voucher codes are used - I need the cash urgently! You may purchase Gift Vouchers if you wish for later redemption, but you will also need to send money for shipping JAGU Boris to your country - Andy will email you to sort this out.
When you checkout on the cart you will see the Any Comments? box - write the word JAGU (or say "Send me a free JAGU Boris model, Andy!" or anything you like as long as I can see that you want the JAGU Boris in your £50 order)
Relax in the knowledge that you didn't miss out on JAGU Boris for your Big Boris Collection!
15th February UPDATE
RE: the ongoing delays - I am now only 2 weeks behind on the orders. Finally made it into the February pile! Kep them coming though as I have big bills to pay this month for all the metal I've used as well as the normal rent and so forth! Sale still on!
3rd February UPDATE
RE: below warning - I am now 3 weeks behind on the orders but catching up fast! If your order is urgent, please let me know by emailing me as I won't see it until I get that far down the pile!
Apologies to those of you who have emailed me angrily feeling personally let down as I haven't sent things out in my usual quick time - trying my best to get them all out!
15th January 2018
Hi all!
Quick note to tell you not to worry if your order seems massively late in shipping - I had so many of them over Christmas that were basically the same order, that I have had to spend the last week furiously casting loads of models and also making new moulds to fill everyone's orders. With that pretty much done, i am now packing for all my life is worth; I've got about a month's worth to catch up on compared to normal. Once your order has gone out I will update the order status and supply any tracking information if you've paid for Express/Tracked & Signed shipping. Meanwhile the Sale is still on until I catch up!
Thanks for being so patient and of course thanks for ordering in the first place!
Much obliged,

Andy Foster

Heresy Miniatures Ltd
www.heresyminiatures.com/shop
PLEASE BE AWARE THAT NO ORDERS WILL SHIP UNTIL JANUARY 9TH 2018 WHEN I COME BACK FROM MY LONG-AWAITED CHRISTMAS/NEW YEAR BREAK!
I am one man, I have worked in the workshop every day except for 18 of them this year and I need to take two weeks off as I am utterly exhausted. That is why there is a huge SALE on! To compensate you for any dealys you can get up to 25% off the models, depending on which ones you're after! have a browse and seee how much you can save! The Sale will end in January when I get caught up with everything following my return to work!

See the Facebook and Twitter pages for up to the moment news updates, etc. Also the front page of this website usually has the latest news on it.

NEWSLETTER (powered by Mailchimp)
To subscribe to the new Mailchimp-powered newsletter, please click this link rather than the one in the footer for now until I can get it integrated. To unsubscribe, either visit that link or use the link in the newsletter you have received.