LATEST NEWS (Choose Your Own Offer!)

CHOOSE YOUR OWN ADVENTURE DISCOUNT OFFER!
Really under pressure right now. Orders are piied up due to all the chaos of Salute. I'm getting through them as quickly as I can, so don't worry! Meanwhile - decide which of these two offers you'd like! A poor Salute takings means I need to raise funds to replace my crappy car with a slightly newer crappy car! And pay the bills as well! *laughs until cries*
1) Free Shipping
You can get free standard shipping to any country, worldwide, by adding £50 of items to your basket and then during the full checkout process entering the Redemption Code FREESHIPPING (exactly like that: all capitals, one word) in to the Redemption Code box on the Payment Options page. This code can only be used once per person! SO gather all th ething syou want into one order carefully before using it.
2) 20% OFF EVERYTHING
If you order £100 of any items, including resin and putty, you can claim 20% off the value of your order by entering the code BADWEEKDEADCAR into the Redemption Code box when checking out. This offer is due to my car totally failing it's MOT and a newer one being needed. It has, indeed, been a bad week, if you follow me, Andy Foster, on Facebook you'll know all about it. Suffice to say, the bigger the order th emore I appreciate it!
PLEASE NOTE: You can only use one Redemption Code at a time per order! Choose wisely, adventurer...
31st March 2018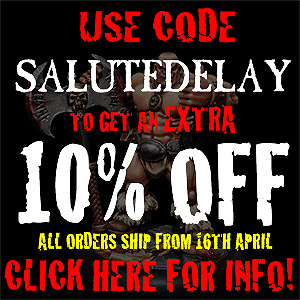 SALUTE is upon me big time! Unfortunately i am having to prepare for the show by myself this year and this means 14 hour days for the last two weeks before the big annual trade spectacular in London, on the 14th of April. No new orders will be being sent out during the next fortnight but I will try to ge the backlog of orders cleared still.
All orders from 30th March will ship from April 16th, i.e. the Monday after Salute when i can think straight again. orders place before this point will hopefully be sent out before the 14th if I can. it's utter chaos in the workshop!
IF YOUR ORDER IS URGENT and you neeed it by a specific date please email me and let me know!!
If you wish to place an order to collect at Salute, please do so - just choose Store Pick Up as the shipping option and mention that you wish to collect at Salute using the box on the cart that asks 'Any Info?' and place your order before 10th of April at very latest - there's no way I can get any orders put together after that date!
To compensate for the shipping delays, not only is there already 10% off on metal figures, but if you use the code SALUTEDELAY (all capital letters) you can get a further 10% off your entire order excluding shipping! So that's up to 10% off resin, and up to 20% off metal! This offer ends on the 16th April.
All orders wil ship as soon as possible from the 16th, in order of receipt.
Please do put some orders in - I have to pay £700 on van hire and hotels before the show even starts! :)
Heresy can be found at stand TM04 on the Salute floorplan map. This is in the far top left corner as you come in from the entrance, next to Hasslefree Miniatures
MEANWHILE
Check out the pre-orders - The Netherlord II has returned and will be winging it's way out later in the year (on or before September) and the Occulak has a new shape to disgust you with!
19th February UPDATE
I still need orders to pay the massive bills due next week! Not only can you get the stupidly good sale offers on all the various models, but for the rest of this week, you can get the otherwise unavailable Job's A Good 'Un Boris that features on the thank you slips I send in the orders!
There is no other way to complete your big Boris collection without him!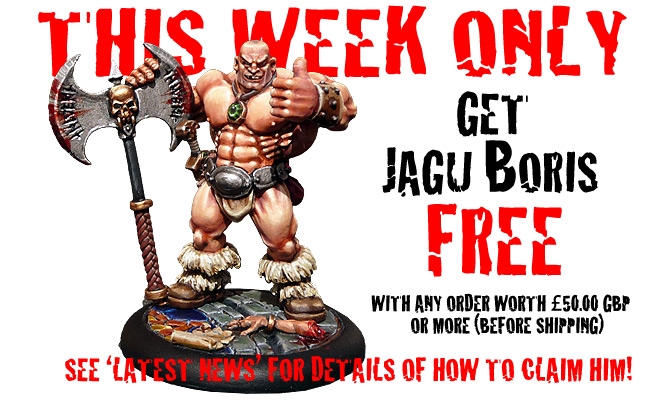 To claim your free JAGU Boris, you must do the following:
Place an order on the shop before Monday February the 26th. The order must be for at least £50.00 GBP of goods before shipping and after any discounts or voucher codes are used - I need the cash urgently! You may purchase Gift Vouchers if you wish for later redemption, but you will also need to send money for shipping JAGU Boris to your country - Andy will email you to sort this out.
When you checkout on the cart you will see the Any Comments? box - write the word JAGU (or say "Send me a free JAGU Boris model, Andy!" or anything you like as long as I can see that you want the JAGU Boris in your £50 order)
Relax in the knowledge that you didn't miss out on JAGU Boris for your Big Boris Collection!
15th February UPDATE
RE: the ongoing delays - I am now only 2 weeks behind on the orders. Finally made it into the February pile! Kep them coming though as I have big bills to pay this month for all the metal I've used as well as the normal rent and so forth! Sale still on!
3rd February UPDATE
RE: below warning - I am now 3 weeks behind on the orders but catching up fast! If your order is urgent, please let me know by emailing me as I won't see it until I get that far down the pile!
Apologies to those of you who have emailed me angrily feeling personally let down as I haven't sent things out in my usual quick time - trying my best to get them all out!
15th January 2018
Hi all!
Quick note to tell you not to worry if your order seems massively late in shipping - I had so many of them over Christmas that were basically the same order, that I have had to spend the last week furiously casting loads of models and also making new moulds to fill everyone's orders. With that pretty much done, i am now packing for all my life is worth; I've got about a month's worth to catch up on compared to normal. Once your order has gone out I will update the order status and supply any tracking information if you've paid for Express/Tracked & Signed shipping. Meanwhile the Sale is still on until I catch up!
Thanks for being so patient and of course thanks for ordering in the first place!
Much obliged,

Andy Foster

Heresy Miniatures Ltd
www.heresyminiatures.com/shop
PLEASE BE AWARE THAT NO ORDERS WILL SHIP UNTIL JANUARY 9TH 2018 WHEN I COME BACK FROM MY LONG-AWAITED CHRISTMAS/NEW YEAR BREAK!
I am one man, I have worked in the workshop every day except for 18 of them this year and I need to take two weeks off as I am utterly exhausted. That is why there is a huge SALE on! To compensate you for any dealys you can get up to 25% off the models, depending on which ones you're after! have a browse and seee how much you can save! The Sale will end in January when I get caught up with everything following my return to work!

See the Facebook and Twitter pages for up to the moment news updates, etc. Also the front page of this website usually has the latest news on it.

NEWSLETTER (powered by Mailchimp)
To subscribe to the new Mailchimp-powered newsletter, please click this link rather than the one in the footer for now until I can get it integrated. To unsubscribe, either visit that link or use the link in the newsletter you have received.