To use one of the various special Redemption Codes that Andy will sporadically create and publish on Twitter, Facebook, the newsletter etc, add some items to the cart, then during the checkout process, on the Choose Payment Options page, you will see a box that is marked Redemption Code. Enter the code into this box and it will be applied once you press Continue. Be sure to enter the code exactly as it was typed by Andy which is normally ALL CAPITALS for ease of use. (Please don't skip the full checkout by using the Paypal Express button as it doesn't allow you to enter codes; you will still be able to pay by Paypal using the Payment Options page)
20% Off Everything When You Spend £50 or More

Get 20% off your order when you spend £50 or more! Enter code FIREANDFURY in the Redemption Code box on the shopping cart when you checkout (Use full checkout procedure as using the Paypal Express button skips the payments page options with the Redemption Code box on! Jusy keep clicking 'CONTINUE' on the shopping cart, Paypal still comes up as an option there anyway). Expires 31st August at Midnight UK time or once 25 people have used the code so be quick!
OFFER
:
FREE STANDARD SHIPPING IN AUGUST!
Spend £35 or more, enter Redemption Code AUGUSTFREESHIPPING on the shopping cart ( enter it in the Redemption Code box, whilst checking out using the full checkout process) and your order will get free standard shipping - Worldwide! If you spend £80 or more then I will upgrade this to Free Express shipping!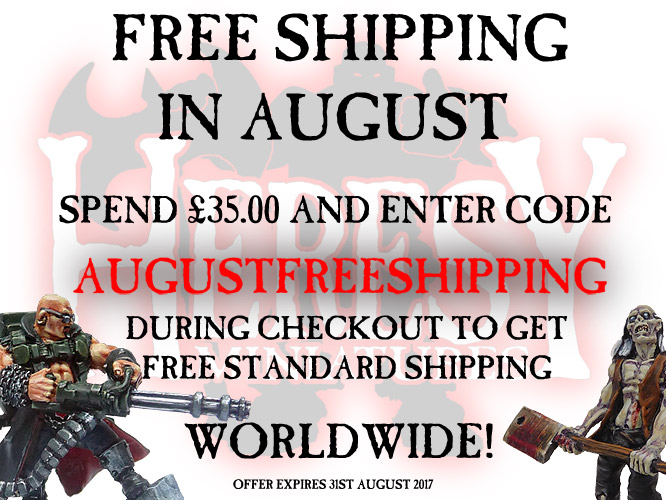 This offer is only valid during August and expires on the 31st August at Midnight UK time!
Subscribe to the Heresy Newsletter, or follow us on Twitter or Facebook using the links in the menu bars to be made aware of any secret codes and so forth as they are created!