COOKIES: This site uses session cookies to track your movements within the store purely in order to operate the shopping cart and your account details, etc. No tracking or personal identity information is stored regarding your non-Heresy internet usage. By using this site, you agree to allow the use of cookies during your session here.
For more information, click here. or read the Privacy page.

SALUTE PREPARATIONS BEGIN NOW - SALE ON NOW DUE TO DELAYS!
No orders will ship this week due to workload! They will go out from the 24th.
With Salute, the annual Big Show in London Excel (April 22nd this year), where all the big and small miniatures companies gather to desperately claw at the waving handfuls of cash proffered by jeering customers in top hats and monocles, now LESS THAN 4 weeks away, it's utter chaos in the Heresy Workshop as I try to cast up at least some of everything so that my recurring nightmares about turning up with no stock on the day don't come true. This means that you may experience a small delay in your order as I'm doing the work of three men trying to get ready for it all. Apologies in advance! In fact, never mind the apologies, you can have some money off instead. Offers end evening of April the 30th, UK time.
Your order may be delayed by a few days before shipping, but I'll do my best! If it is urgent,. please email me to let me know that, too!
http://www.salute.co.uk/salute/salute-2017/
Heresy is at stand TM04, far left corner away from the entrance.
Wobbly Pound Sterling
It should be noted that although the crashing £GBP means that prices for non-UK customers are temporarily cheaper than they ever have been, our suppliers of the metal and resin used in the figures tend to buy their stock in dollars and euros, so the cost of metal and resin will rise accordingly as they pass the higher prices they pay on, and those rises will likely be reflected in the price of the figures for us small indie types, who buy in small amounts and are thus more directly affected by fluctuations in price because we can't buy in bulk, before very long.
SO YOU SHOULD BUY STUFF NOW.
Free shipping still on for orders of £60gbp or more!
Kickstarter, Catching Up On
I am currently trying to pack and ship as many of the Return Of The Monsters Kickstarter pledges as are possible (approx 100) before I move onto moulding the last few figures! This may mean a slight delay by a day or two to the regular orders, as there's a lot of work involved in the KS stuff, and I have to constantly remake moulds fo rthings like the Ogre With Table, hellmites etc. I still will be shipping on Mondays, Wednesdays and Fridays as normal...

With the pound sterling struggling against the Dollar, Euro and Austrlaian Dollar, thanks to the ongoing Brexit fiasco, this is a great tim efor our overseas customers to indulge in some splendid Heresy miniatures! Free Shipping Worldwide when you spend £60 or more, too!
PLEASE NOTE THAT ALL THE MODEL KITS WE SELL ARE SUPPLIED UNASSEMBLED AND UNPAINTED. THEY ARE MADE OF A TIN ALLOY OR OF POLYURETHANE RESIN (It will say which in the description) AND MAY REQUIRE CLEANING UP, ASSEMBLY USING SUPERGLUE AND GAP-FILLING USING MODELLING PUTTY. THEY ARE NOT TOYS AND ARE UNSUITABLE FOR CHILDREN UNDER 13.

If you are telephoning us, please be aware that due to an overwhelming deluge of fraudulent calls (30 on Monday alone) from people pretending to be officials, trying to switch our electric, or sell us IT or suchlike, we are screening all calls. Simply stay on the line whilst the answerphone message plays and start talking when you get the chance so that we can hear you aren't yet another salesperson but an actual customer we need to talk to! Sorry about this...it's a curse of the modern age.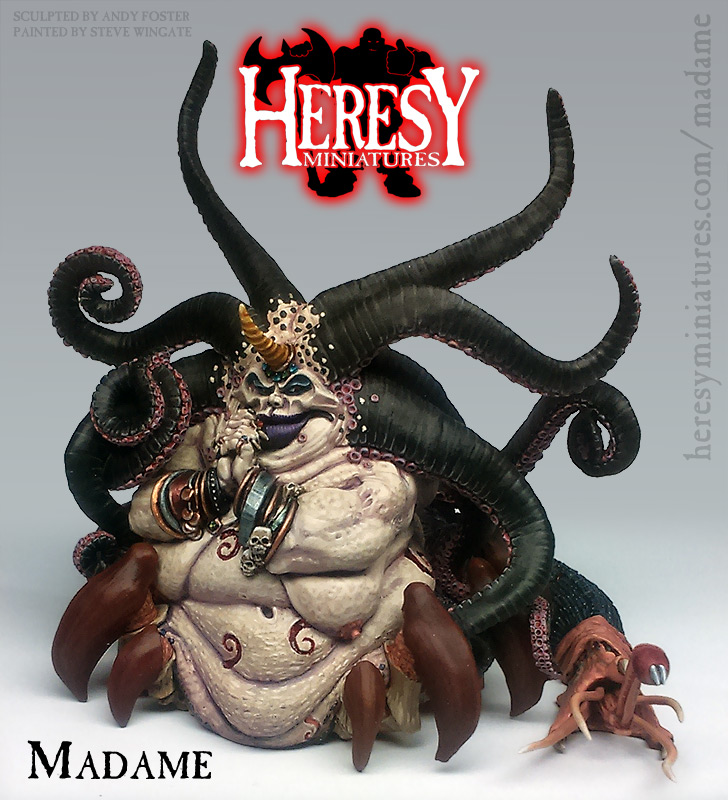 Pre-Order Madame Ner'Gabba Now!
We are making and casting the amazing Madame kit for the Kickstarter backers, and as soon as we've cleared that small queue we will start sending out the pre-ordered ones!
See the New Stuff section for details of our other new and upcoming items!

---