COOKIES: This site uses session cookies to track your movements within the store purely in order to operate the shopping cart and your account details, etc. No tracking or personal identity information is stored regarding your non-Heresy internet usage. By using this site, you agree to allow the use of cookies during your session here. For more information, click here. or read the Privacy page.

Pre-Order the new Armoured Boris III 2017 aka Fallen Boris now! In the New Stuff section

Help Me Pay The Rent!
Tough times abound!
It's been several months in a row of very, very few orders, and I need your help to keep going long enough to clear the Kickstarter backlog, and get this business running properly - the best way to do that is to place an order and take advantage of the sale - you save money, and I get a few more pounds towards the bills! Please don't say to yourself, Oh, I must get that at some point - get it NOW. If you know a friend who might like some of the models I sell, get them to buy it NOW. Every little helps!
I and other small miniatures businesses are on the brink of going out of business, since everyone spends their money on kickstarters instead of on generally available models these days - so your order counts for more than you might imagine - it goes straight into paying the rent & bills, not some shareholder's annual dividend!

Free shipping still on for orders of £60.00 gbp or more!
Kickstarter, Catching Up On
I am currently trying to pack and ship as many of the Return Of The Monsters Kickstarter pledges as are possible (approx 100) before I move onto moulding the last few figures! This may mean a slight delay by a day or two to the regular orders, as there's a lot of work involved in the KS stuff, and I have to constantly remake moulds fo rthings like the Ogre With Table, hellmites etc. I still will be shipping on Mondays, Wednesdays and Fridays as normal...

With the pound sterling struggling against the Dollar, Euro and Austrlaian Dollar, thanks to the ongoing Brexit fiasco, this is a great tim efor our overseas customers to indulge in some splendid Heresy miniatures! Free Shipping Worldwide when you spend £60 or more, too!
PLEASE NOTE THAT ALL THE MODEL KITS WE SELL ARE SUPPLIED UNASSEMBLED AND UNPAINTED. THEY ARE MADE OF A TIN ALLOY OR OF POLYURETHANE RESIN (It will say which in the description) AND MAY REQUIRE CLEANING UP, ASSEMBLY USING SUPERGLUE AND GAP-FILLING USING MODELLING PUTTY. THEY ARE NOT TOYS AND ARE UNSUITABLE FOR CHILDREN UNDER 13.

If you are telephoning us, please be aware that due to an overwhelming deluge of fraudulent calls (30 on Monday alone) from people pretending to be officials, trying to switch our electric, or sell us IT or suchlike, we are screening all calls. Simply stay on the line whilst the answerphone message plays and start talking when you get the chance so that we can hear you aren't yet another salesperson but an actual customer we need to talk to! Sorry about this...it's a curse of the modern age.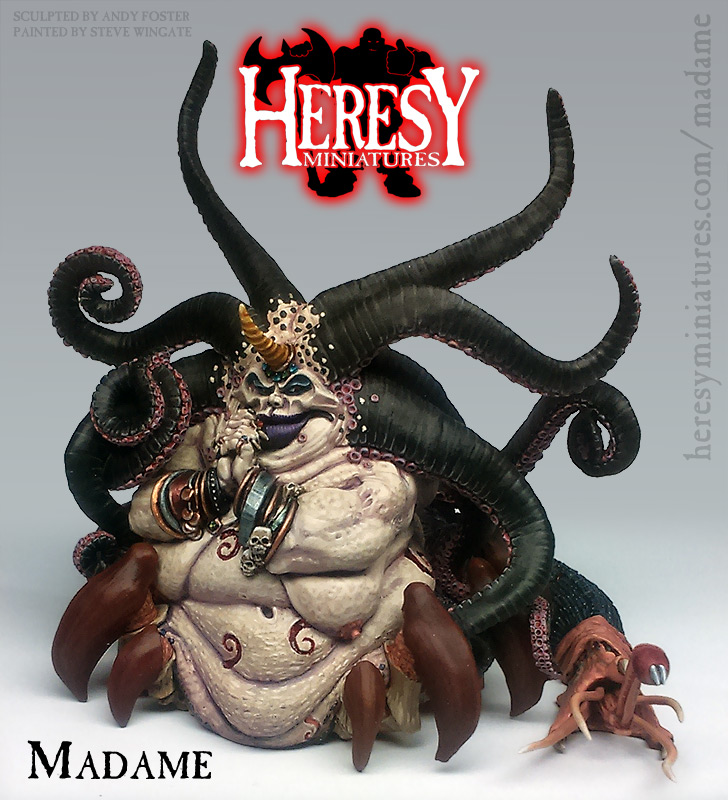 See the New Stuff section for details of our other new and upcoming items!

---